This year there are a lot of really fun limited time experiences, as well as brand new additions and attractions opening at Disneyland Resorts! You can take a look at the full list of the planned events on my 2019 Disney Event Calendar
But here are a few more exciting events that have just recently been added and updated.
World
of
Color Returns
The fabulous World of Color at Disney California Adventure has finally returned for testing with the actual grand reopening scheduled for March 1st. This show features 1200 fountains that shoot different heights, synchronized to favorite classic Disney music with laser projections and pyrotechnics. It is for sure a must-see! You can grab a Fast Pass at the distribution location next to the Little Mermaid attraction for reserved viewing in a designated section. Or for a special treat, make reservations for a World of Color dining experience at the Wine Country Trattoria or Carthay Circle which includes a decedent and delicious 3-course meal and reserved seating for the show. Click Here for more details and pricing on dining options.
Disney California Adventure Food and Wine Festival
I love all of the food festivals at California Adventure but the Food and Wine Festival is one that I specifically look forward to every year! This marketplace style festival not only features a plethora of amazing foods & beverages, but also hosts special entertainment, food & wine seminars, cooking demonstrations, activities for kids, and so much more. And this year, this culinary celebration will run for 54 days starting March 1st, through April 23rd. Be sure to follow my Instagram and check back for a full review of the 2019s Food and Wine Festival.
Dumbo Sneak Peek
Beginning March 1 through April 7, guests can enjoy a sneak peek of Disney's new Live-Action Dumbo at the Main Street Opera House. Annual Passholders will have access on 2/28 and there will be commemorative pins and a collectible mini poster while supplies last as well as a life-size model of Dumbo for guests to take photos with. The movie will be in theaters on March 29, 2019.
Captain Marvel Encounter
"Captain Marvel" hits theaters on March 8, 2019, but Guests at the Parks won't have to wait much longer to meet the superhero herself. There will be a special limited time meet and greet with Captain Marvel at Disney California Adventure. I don't have the specific date yet but will keep you all updated. In the meantime, if you're visiting DCA, be sure to head over and get photos with Spider-Man, Captain America, and Black Panther. You can check the Disney app to see when and where they are doing character meet and greets.
Disney Princess Breakfast Adventures at Napa Rose at Disney's Grand Californian Hotel & Spa
Beginning March 30, guests can experience a brand new Princess breakfast dining experience at the Napa Rose Restaurant in Disney's Grand Californian Hotel & Spa. Guests will dine on a delicious 3-course meal while visiting with your favorite Disney princesses. Unlike the other character dining experiences, this one also includes special activities with the princesses, a commemorative souvenir and a portrait with a princess. Probably because of these extras, this is the priciest of the character dining options at $125 per person for ages 3 and up, but knowing Disney, I'm sure they make it well worth the price tag. The Princess Breakfast is offered Thursday – Monday from 8 am to 12 pm and includes 5-hour complimentary parking at the Grand Californian.
To check out the menu and see reservation details, click here.
Disneyland After Dark: Heroes Assemble
Disney has added another Disneyland After Dark event this year and the theme is Super Heroes! This will be the first of the Disneyland After Dark events to take place at Disney California Adventure and all of the Marvel Heroes will be out for the party. This event will take place April 30 and May 1 and runs from 9:00 pm (but guests can get into DCA at 6:00 pm) to 1:00 am.
Tickets are $109 and can be purchased here. These events do sell out quickly so if you're interested, book soon.
The Lion King Celebration
An official date hasn't been announced yet but, Disney Park's Blog recently announced that this year a "The Lion King" celebration will take place at Disney California Adventure in honor of the film's 25th Anniversary!
I will keep you updated as more information is announced.
Disney
Pop
Up!
Another exciting event that was just shared by Disney Parks Blog is a Disney Pop UP at Downtown Disney, and it looks like it's going to be awesome. This limited time exhibition will take place in the former ESPN Zone in the Downtown Disney District featuring several themed rooms. Similar to other pop-ups like the Museum of Ice Cream, it will be the ultimate photo party with amazing selfie-worthy props and backgrounds celebrating Mickey and Minnie. So if you love art, photos, and Mickey this will be an event you don't want to miss.
Tickets are on sale now and the event will open April 26th. You can get your tickets here.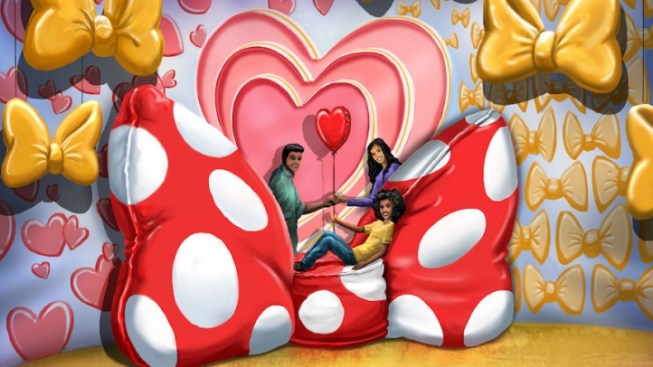 Artist Rendering of one of the rooms in the Disney Pop Up: Disney
New at Pixar Pier- Jessie's Critter Carousel and Inside Out Emotional Whirlwind
These two brand new kid-friendly attractions are set to open on Pixar Pier this year. Based on the construction progress it looks like Jessie's Critter Carousel will open first, then Inside Out Emotional Whirlwind, but we'll have to wait and see.